Current Status |
Net4India Servers |
PDR Domain Transfers |
ICANN gTLD Bulk Transfers |
NIXI ccTLD Domain Transfers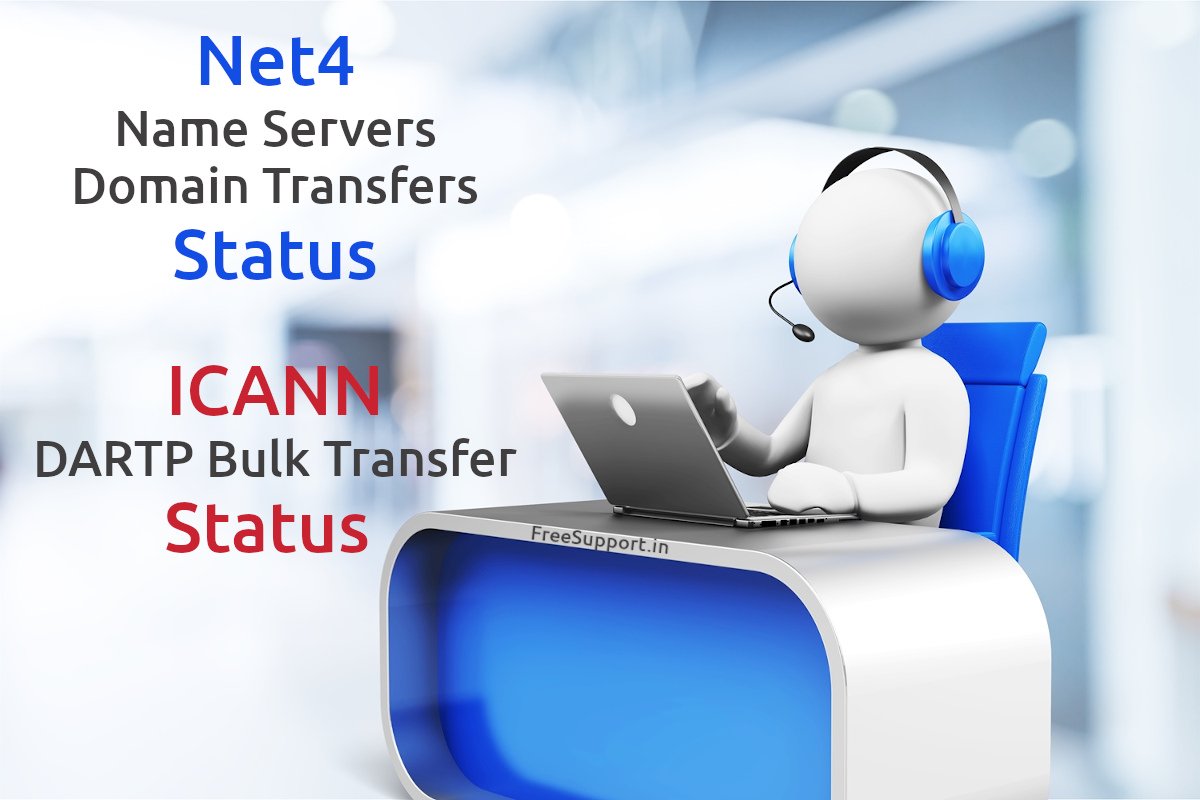 Last checked : 2nd June 2021


Important Recent Update




Transfers Are In Progress & According To Schedule




.Com's Are Transferred But, Yet To Be Activated




Most Recent Update




You Can Reset The Password


Use "Forgot Password" Option At BigRock


Email Confirmation Must Be Completed Within 15 Days



Update In Detail
Since this page is getting lengthier, we made it easier for you to jump to the latest update: LINK
Net4India
Website
Status

NOT WORKING


Both .com and .in fail to load
Net4India
Name Servers
Status

NOT WORKING


A and MX Records not served
Net4India
Web Servers
Status

NOT WORKING even after manual A-Record mapping


Will not resolve without working NS



Did you backup your website : INSTRUCTIONS
Net4India
Mail Servers
Status
NOT WORKING

Will not resolve without working MX



Webmail NOT WORKING

Did you backup your email?


While ping response can be turned off by the server, problem here is that the name itself is not resolving.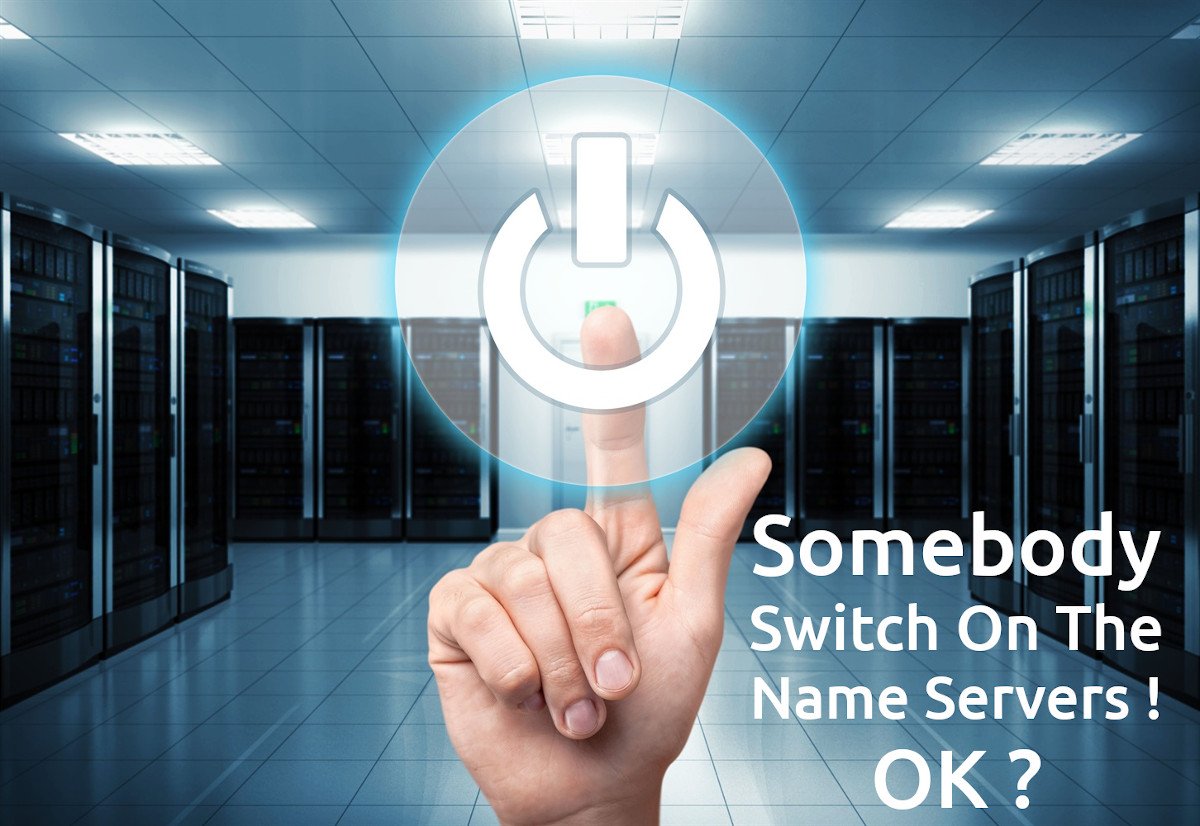 ICANN DARTP
Bulk Transfer
Status

Announced on 28 April 2021

Announced on 14th day that the Gaining Registrar would be "Public Domain Registry"
Domain transfers almost complete


*Logo belongs to the respective owner
NIXI
.in Domains
Transfer Status

WORKING ALRIGHT

.in's getting transferred in 24 hours according to unconfirmed reports

Customer
Care
Status

Net4India: NOT REACHABLE

ICANN:WORKING (Replies on Twitter @ICANN), Email Responses from Contractual Compliance Team

NIXI : WORKING, Try during office hours, IST (Email, Twitter @inregistry)
Contact
Info &
Status

Endurance India (NewFold Digital)


(Replies on Twitter @NewfoldIndia)

Email:
net4india-domains @publicdomain
registry.com

General questions only, domains are not transferred to them yet




About PublicDomainRegistry.com
Belongs to "The Endurance International Group, Inc."
"Endurance India" website redirecting to "NewFold Digital" website since 13th May 2021.
Manages around 5 Million domains.
BigRock, BlueHost, HostGator are all brands of Endurance International Group.
We are GUESSING BigRock will manage the newly transferred domains since it already has presence in the Indian Market. If so, the registration and renewal fees will be comparable to the local competitors.
What Is The Impact Of This Downtime On Your Website ?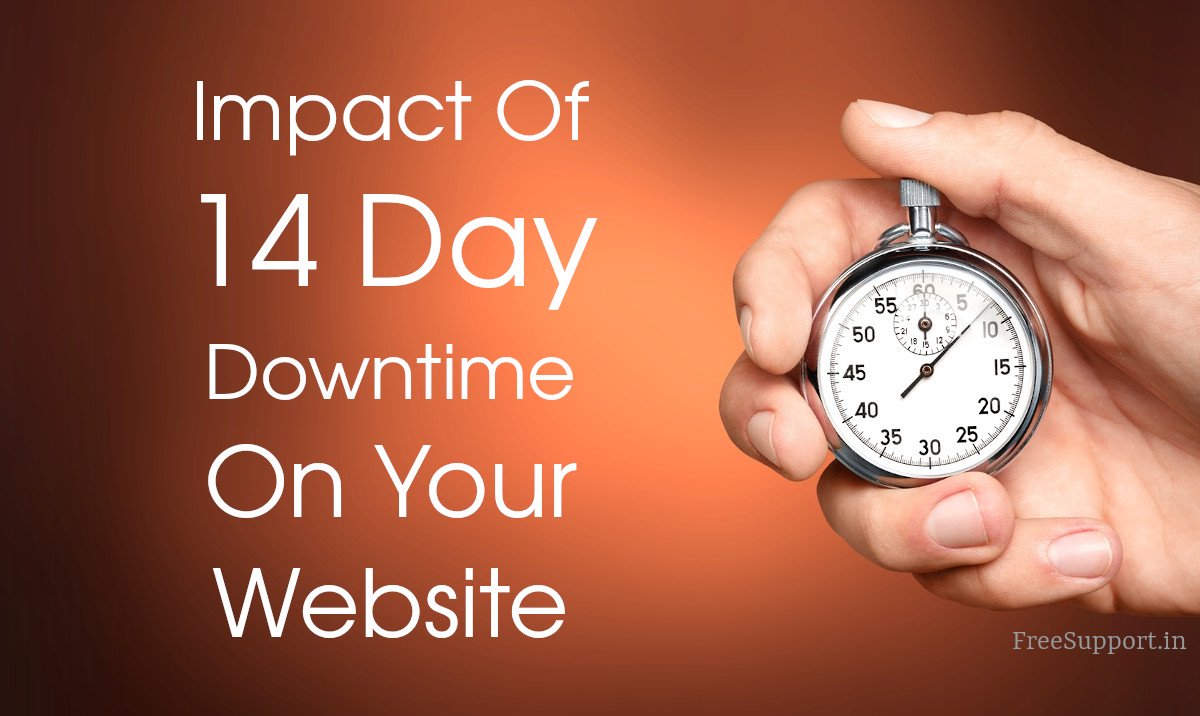 Know about how it could have impacted your rank on Google's Search Engine Results Page (SERP) and how to get back to where you belong on that page : LINK

User Reports (Unconfirmed)
A user reported that the Mail Servers have come online briefly for a few minutes at around 8PM on 8th May 2021. He received email during that time.
Couple of users reported that the entire process of .in domain transfer was completed in 24 hours.
More users are reporting that they are getting incoming mail intermittently on non-Net4 Mail Servers, particularly promotional emails. A POSSIBLE reason: The NS remained down since April 28th, technically the only other way this is could happen is because the DNS Server from which the "Sending Mail Server" is fetching the MX Records is not respecting the TTL expiry of Net4's MX record. Could also be that the DNS Server serving these MX Records is restored from a backup dated around 28 APR. Please keep in mind that we are not talking about Net4's DNS Servers but about those that are serving Records for the "Sending Mail Servers".
There are some UNVERIFIED reports of users getting their domains transferred to other registrars through middlemen. PDR has alerted users on May 20th to refrain from going through these channels. PDR says the domains will anyway be transferred safely in the coming few days.
Users are able to generate password reset links and manage extensions like .mobi
Timeline Of Events
Year: 2020
Net4India, India's largest domain Registrar becomes insolvent. Issue goes to NCLT (National Company Law Tribunal).


Homepage of Net4's website shows that the company is operating with reduced staff because of COVID Pandemic.


Domain renewals do not go through and remain in "In Process" status.
Date: 29th September 2020


NIXI (National Internet Exchange of India) says majority of .in domains were registered through Net4India.


Says it has permitted users to migrate .in domains to other registrars.


Says it will provide the Auth Code (Authentication Code/Transfer Code) for verified domain owners. Step by step process is listed here: LINK


Date: 10th December 2020


Users face issues with domain renewals. ICANN (Internet Corporation for Assigned Names and Numbers) issues "1st Notice of Breach".


Date: After 10th December 2020


Auth Codes could be generated from Net4.com and domain transfers were possible.


Date: 24th December 2020


ICANN issues "2nd Notice of Breach".


Date: Throughout Jan 2021 and early Feb 2021


Domain transfers were possible using Net4.com but the website was intermittently going offline.


ICANN tells that it is not a Registrar and cannot generate Auth Codes.


ICANN helps users to transfer domains by directing them to Pankaj Shukla of Net4India Support.


Date: 25th Jan 2021


Net4India asks the Insolvency Court to prevent ICANN from terminating RAA (Registrar Accreditation Agreement).


Date: 29th Jan 2021


ICANN issues "3rd Notice of Breach".


Court orders Net4India to provide services in a timely fashion.


Date: 26th Feb 2021


ICANN terminates RAA with Net4India with effective date of 13th March 2021.


Date: 13th March 2021


Court issues an Ad-Interim Order directing ICANN not to terminate the RAA.


Date: 14th April 2021


Net4India's Name Servers go offline.


Websites and Email of customers become unavailable.


Date: 18th April 2021


ICANN submits the proofs of service outage to the Court.


Date: 27th April 2021


Court allows ICANN to terminate Net4India's RAA.


Date: 28 April 2021


ICANN announces that they have initiated DARTP (De-Accredited Registrar Transition Procedure) and they are going to to Bulk Transfer the gTLD domains to another Registrar.


Says they will identify the gaining Registrar in 2 weeks time.


Date: 28 April 2021


Net4's Name Servers and website go down and remain offline till date


This resulted in downtime for all the Websites and Mail Services that use Net4's Name Servers

Date: 07 May 2021


9 Days after Net4India's website went down, Google search does not show the Net4.com website among the search results for any of the core keywords.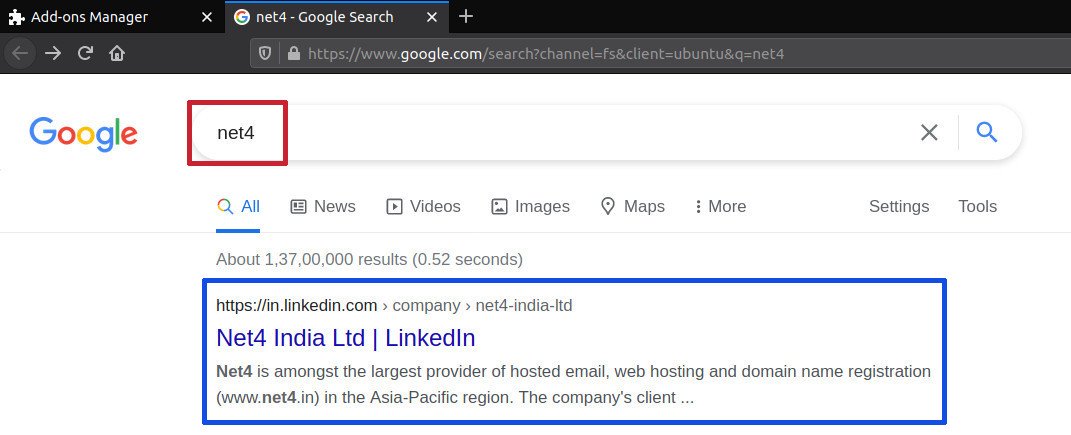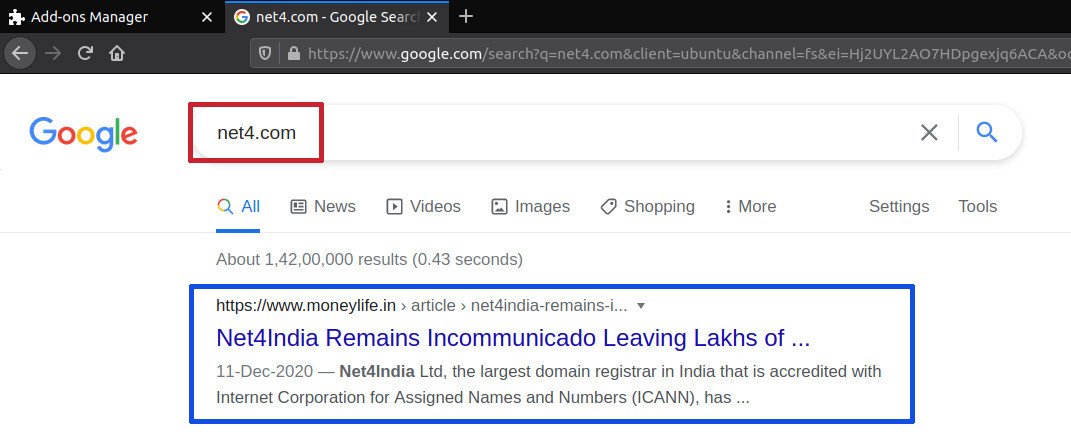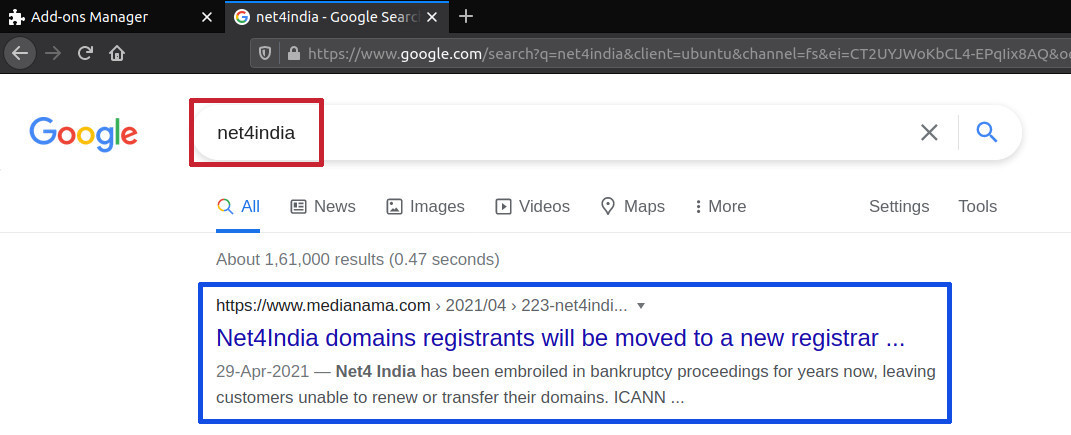 Is your domain still among the results ? Know the impact of this downtime : LINK

Date: 12 May 2021


ICANN announces the Gaining Registrar on the 14 day of the 2 week deadline.


The Gaining Registrar is "PublicDomainRegistry.com".


PDR will contact customers with info of how to manage their domain.


Customers are NOT charged for Bulk Transfers, NO AUTH CODE is needed.


Public Domain Registry has answered some questions here, briefly put:
Says process completed only to the point of "ICANN appointing PDR as the Gaining Registrar".


Says ICANN will now inform all Domain Registries about this.


Says PDR will work individually with them and transfer the domains.


Says all popular gTLD domains (.com .net .org etc) will be transferred to them.


Says ccTLD domains (.in etc) will NOT be transferred to them.


Says an account will be created for you with their PARTNER BRAND (BigRock?)


Says you can manage the domain in the Control Panel provided by the Partner Brand.


Says you don't need to do anything for transferring your domain.


Says Name Server changes are not possible for now since they don't have control of the domain yet.


Says they are limited to Domain Names only for now. Websites and Email Services provided by Net4India is a different issue.


Says the entire process of Domain Transfer could take 2-4 WEEKS depending on how fast they can work with the individual Registries.
2-4 Weeks of more downtime then, it is time we look at the other options too. We will discuss about it shortly.
"Endurance India" is now "NewFold Digital".


India.endurance.com is redirecting to newfold.com since 13 May 2021.


NewFold's website does not mention any Indian Office address or Phone Number as of now on its Contact Us page.


NewFold Digital goes by the handle @NewfoldIndia on Twitter and is responding to messages.


NIXI will soon give .in domain owners a free custom email id:


For example, if you own example.in your free email id will be

This email address is being protected from spambots. You need JavaScript enabled to view it.

(This sentence a classic example of keyword spamming, just an example, OK!)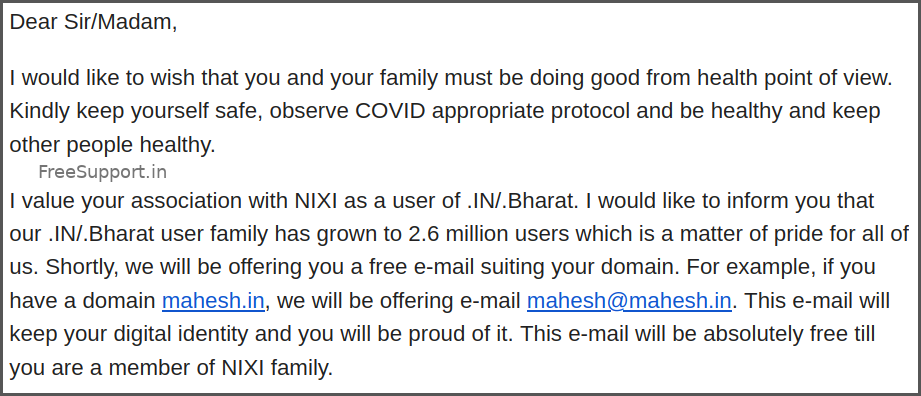 Initial review of data received from ICANN is completed by PDR.


Some concerns were identified, will be solved in 2 days.


Initiated plans with Registries to transfer some gTLD domains (.com .net .org etc).


Will announce the transfer dates for these domains before May 21st (Friday).


Talks are on with other gTLD and ccTLD Registries (.tv .cc .me).
Ever "Locked the house and threw the key inside through the window ?" As a matter of fact, this is what happened to many user accounts at Net4India, the email id used for domain management is on a server hosted at Net4.

We asked NewFoldIndia for a solution "Hello PDR, User's registered mail id is with Net4 and cannot receive email due to NS failure. This will result in NOT getting the new account details post transfer of his domain to a partner of PDR".

They promptly replied "Post the transfer process, our team will help you change the email address linked with your domain name so that you can access your Control Panel".

Problem solved then, thanks PDR. Probably, there will be some ownership verification process, hopefully it will be easy (Net4 Invoices? RABT Data?).
Public Domain Registry has announced a update here, briefly put:


Says acquisition, review and clarification of issues regarding registration data is completed.


Says communication with registries to decide transfer process will be completed today.


Says transfer dates will be announced from May 24.


Alerts users about fraudulent proposals for transferring their domain names or getting them activated. Says all domain names will be safely transferred to in the coming days, and you will not need to take any steps or make any payments to facilitate the transfer.
PDR says preparations are complete, and are about to start the transfer process.

Schedule of transfer completion for different TLD's:

Tuesday, May 25
.INFO
.MOBI
.PRO
.SHIKSHA


Wednesday, May 26
.ORG
.ASIA
.TEL
.SHOP
.BIZ
.CO
.STORE
.TICKETS


Thursday, May 27
Says the domain will not be available for control for a few days after it is transferred. Reason being that your new Account must be activated, which will start on the subsequent day of transfer for each TLD and will take a few days from then on.
Sources point that most of the gTLD domains are transferred to PDR already.
The partner providing the control panel is BigRock.Com (You voted for it in our poll).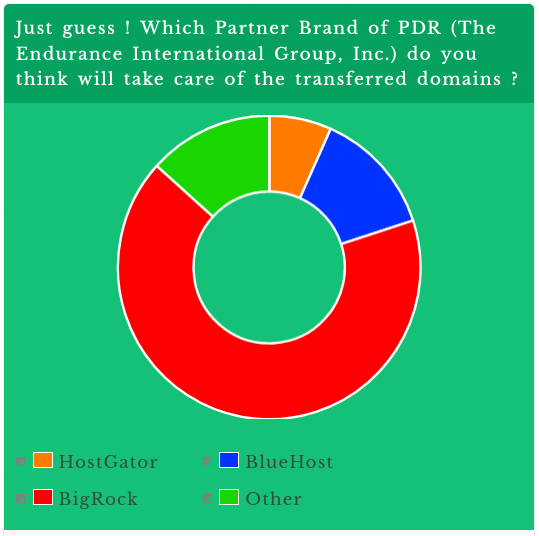 Poll Result


The Login ID is the registrant e-mail id.
Password is sent to the registrant e-mail id.
Only the domain extensions transferred on 25th May (.Mobi, etc.) are shown in the control panel now.
Name Servers can be changed to your choice.
Domains cannot be transferred (Probably due to the "Transfer Lock" since the domain is freshly transferred).
You can check if the domain is at PDR already: LINK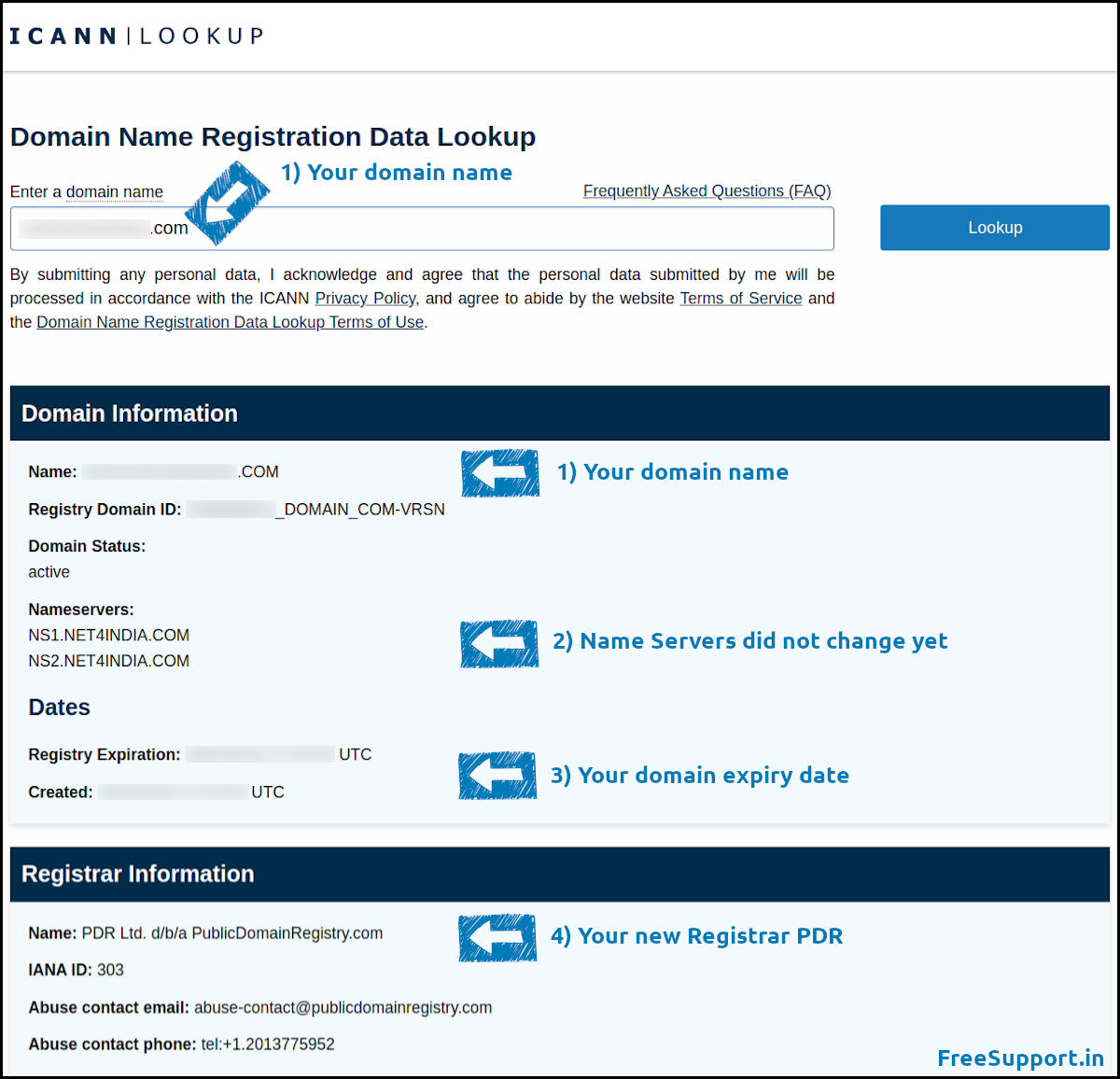 BigRock has posted an update here, briefly put:


Domain transfers are almost done, accounts for .com's will be activated starting today.


Activation would require creating the new password. Visit the login page at BigRock, enter the registered email id (the one you used at Net4India), use the forgot password option to generate the reset link, check your email and create the new password.


If you do not have access to the registered email id, you need to contact BigRock Support and submit these:

Check the expiry date of your domain and renew it if needed, guide: LINK


Change the DNS Records as needed so that your website and email are live again.

We are making an easy guide for this, meantime, if you need it to be changed urgently you can ask us at

This email address is being protected from spambots. You need JavaScript enabled to view it.




If you had any money in your wallet at Net4India, it is NOT carried over to BigRock. Considering the timeline of events, we guess that money is practically gone. You can ask Net4India about it but, how will you ask?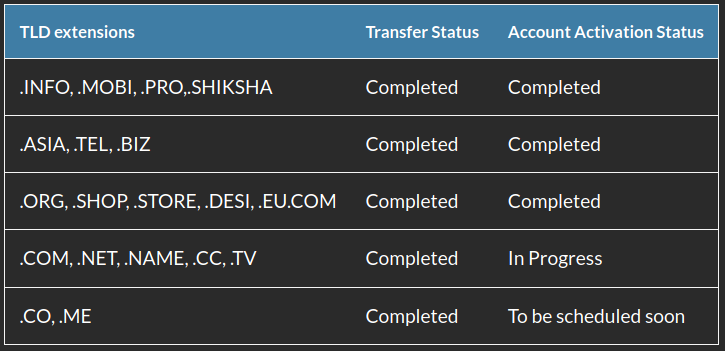 Looks like there are a lot of .Com's. Activation is still taking time.


Multiple users are reporting that their accounts have been activated by BigRock.


Looks like BigRock has prioritized domains that are using Net4India Name Servers.


Process for generating the new password remains same as discussed earlier.


BigRock is sending out mails asking for verification of registered email.


Verification must be completed within 15 days, else, domain will be deactivated.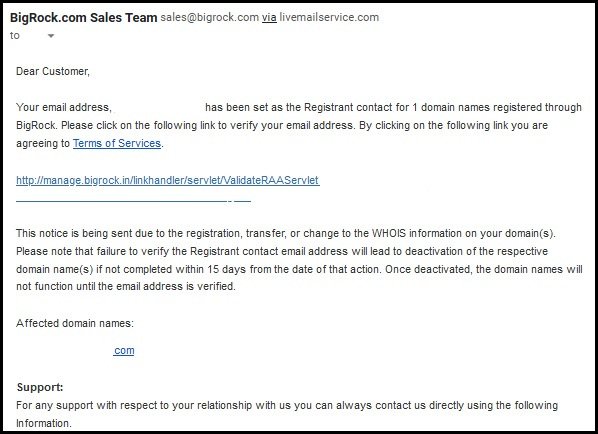 Image Courtesy | @AjayKhatwani
Our advice: Keep these things handy so that you can get online as quickly as possible after the domain transfer.


Your DNS Records
"A Record" to point to the Website.
"MX Record" to point the Mail Servers.
"CNAME" and "TXT" Records if you have used them for verifications.
Don't know what they mean ? Ask us, we will explain them in detail.


Keep your webfiles ready, find a backup copy (If your current website is hosted with Net4, their servers are already down and might not come back, we checked by mapping the A Record manually).


Keep your mail client data intact so that you can transfer it to the new service provider (If you are hosted with Net4's Mail Servers, they are not pinging and might not receive mail even after domain transfer, this leaves with no option but to move to other service providers).

Keep checking your registered email id for communication from the new Registrar. They are going to send thousands of emails, it might end up in Spam. Check spam folder regularly and do NOT empty it without checking. The first mail they have sent on May 19 did NOT end up in spam folder though.

You can bookmark this page for further updates and you can also let us know if there are any updates.


This super fast webpage loads in 1 Second across the world. The layout auto-adapts to display according to the target device. So, If you wish to share this article, please do so with the link or the sharing buttons at the bottom so that the viewer will have a similar experience.
Useful Resources


 

Calculate the impact of this downtime on your website rank : LINK

 

Step by step process to transfer ccTLD domains (.in etc) : LINK

 

Step by step process to backup your website using free FTP software : LINK

 

Step by step process to transfer gTLD domains (.com .net .org etc) : LINK
(Process Depreciated after ICANN's Bulk Transfer Announcement)

Forgot your DNS Records (A Records, MX Records) ? Ask Us ! We can help

We are available on WhatsApp: https://wa.me/+919885099850

10AM - 8PM IST. Messages only please. Thank you.


We welcome you to make constructive comments. You can also comment as anonymous. Comments are moderated before publishing keeping in regard the "Constructive" factor. You are welcome to ask more questions in the comments or by mailing us at This email address is being protected from spambots. You need JavaScript enabled to view it.

Note: Information provided by FreeSupport.in is sourced from the internet. We are not responsible for any errors in the provided information or its impact on the users. Cross-checking the accuracy of the information is up to the users.


Authors | @ArjunAndVishnu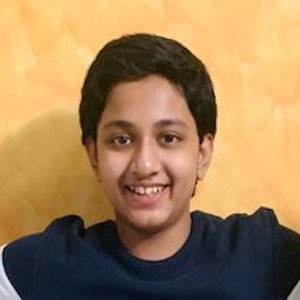 We made FreeSupport.in to provide free tech support.

We write for and maintain a few other websites:

GadgetGen.com (Gadget reviews and the tech inside them)

LearnTechEasy.Com (Technology explained in an easy manner)

PicDictionary.com (An online dictionary in pictures)

I am Vishnu, I write the content and create the webpages. My brother Arjun, edits the images and videos. We started our YouTube Channel recently.